arper
Saya
Design: Lievore Altherr Molina, 2012
Arper Saya is a mark, a gesture, a graphic sign, rendered in wood to finish a space like a signature. Fluid in line, warm in material, its silhouette is bold, striking. The sum is more than the parts: Saya inspires inclusion in diverse environments from home to contract.
Made for both residential and contract use, Saya is available as a chair and a stool (in two heights variations 65 and 75 cm – 19 1/2" and 20 3/4"), manufactured in oak and finished in teak and natural stain. Color stains -open pore lacquered- include white, black, ochre and three shades of red to permit variable yet cohesive combination.
Upholstered shells are available for all Saya chairs and stools. Chairs are available with sled, four-leg in wood and four-leg in chrome-finish steel bases, while stools are available only with in a sled base version. Sled base and four-leg chrome-finish steel version are stackable to allow for large-scale use and storage.
Saya Mini is a small version of Saya designed for children. Wood shells are available in painted white, yellow, red, pink and natural wood. Painted metal sled bases are available in white, yellow, pink, red and chrome.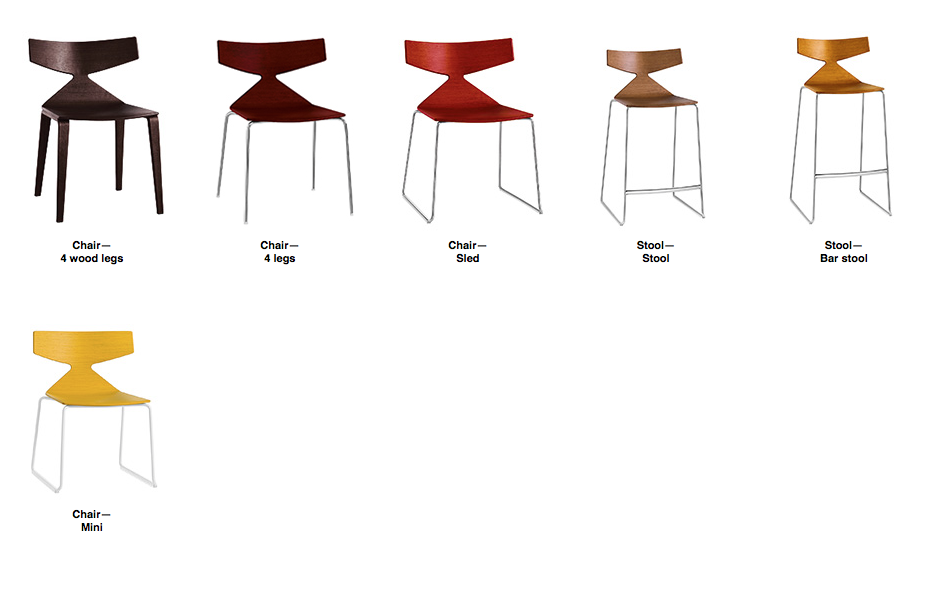 Ga naar website fabrikant